QUESTIONS & ANSWERS
Have a Question?
Be the first to ask a question about this.
Ask a Question
Ask a Question
Health Benefits
Optimal Health
The greens supplement provides the benefits of juicing without the massive time commitment as your less-than-appetizing leafy greens can be found in this convenient product. Improving your digestive health while detoxifying your body, these greens are the perfect addition to your diet.†
Ideal Immunity
With 44 superfood ingredients, it's little wonder that this powerful supplement manages to support your overall immune system function. It even enhances your skin, hair, and nails.†
Increased Energy
Featuring a 14-gram, nutrient-packed blend, this vanilla-flavored greens supplement gives you a pure, significant, and delicious energy boost to overcome your sluggishness so you can take on the day with confidence.†
Mix 1 scoop with cold water. Best to take on an empty stomach first thing in the morning.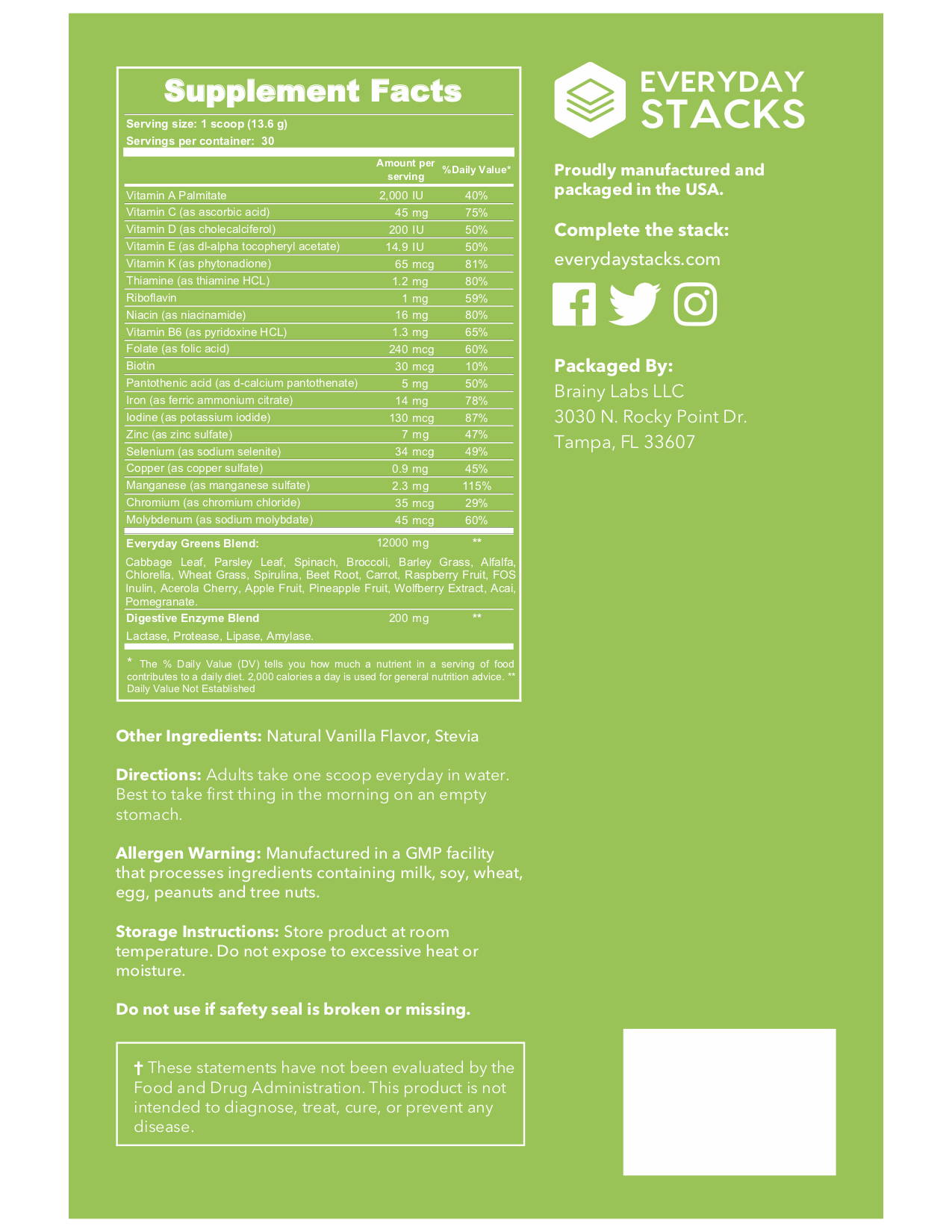 Spirulina
1: Miczke A, Szulińska M, Hansdorfer-Korzon R, Kręgielska-Narożna M, Suliburska
J, Walkowiak J, Bogdański P.
Effects of spirulina consumption on body weight,
blood pressure, and endothelial function in overweight hypertensive Caucasians: a
double-blind, placebo-controlled, randomized trial.
Eur Rev Med Pharmacol Sci.
2016;20(1):150-6. PubMed PMID: 26813468
Chlorella
1: Panahi Y, Badeli R, Karami GR, Badeli Z, Sahebkar A.
A randomized controlled trial of 6-week Chlorella vulgaris supplementation in patients with major depressive disorder.
Complement Ther Med. 2015 Aug;23(4):598-602. doi:
10.1016/j.ctim.2015.06.010. Epub 2015 Jun 18. PubMed PMID: 26275653.
1: Lee SH, Kang HJ, Lee HJ, Kang MH, Park YK.
Six-week supplementation with Chlorella has favorable impact on antioxidant status in Korean male smokers.
Nutrition. 2010 Feb;26(2):175-83. doi: 10.1016/j.nut.2009.03.010. Epub 2009 Aug
5. PubMed PMID: 19660910.
Spinach Extract
1: Bohlooli S, Barmaki S, Khoshkhahesh F, Nakhostin-Roohi B.
The effect of spinach supplementation on exercise-induced oxidative stress. J Sports Med Phys Fitness.
2015 Jun;55(6):609-14. Epub 2014 Jun 12. PubMed PMID: 24921623.
https://www.ncbi.nlm.nih.gov/pubmed/24921623
1: Rebello CJ, Chu J, Beyl R, Edwall D, Erlanson-Albertsson C, Greenway FL.
Acute Effects of a Spinach Extract Rich in Thylakoids on Satiety: A Randomized
Controlled Crossover Trial. J Am Coll Nutr. 2015;34(6):470-7. doi:
10.1080/07315724.2014.1003999. Epub 2015 Jun 1. PubMed PMID: 26029978; PubMed
Central PMCID: PMC4600649.
https://www.ncbi.nlm.nih.gov/pubmed/26029978
Broccoli Extract
1: Kikuchi M, Ushida Y, Shiozawa H, Umeda R, Tsuruya K, Aoki Y, Suganuma H,
Nishizaki Y.
Sulforaphane-rich broccoli sprout extract improves hepatic abnormalities in male subjects.
World J Gastroenterol. 2015 Nov 21;21(43):12457-67. doi: 10.3748/wjg.v21.i43.12457. PubMed PMID: 26604653; PubMed
Central PMCID: PMC4649129.
https://www.ncbi.nlm.nih.gov/pubmed/26604653
Wheat Grass Extract
1: Guillou S, Ghabri S, Jannot C, Gaillard E, Lamour I, Boisnic S.
The moisturizing effect of a wheat extract food supplement on women's skin: a
randomized, double-blind placebo-controlled trial.
Int J Cosmet Sci. 2011 Apr;33(2):138-43. doi: 10.1111/j.1468-2494.2010.00600.x. PubMed PMID: 20646083.
https://www.ncbi.nlm.nih.gov/pubmed/20646083
Beet Root Extract
1: Flanagan SD, Looney DP, Miller MJ, DuPont WH, Pryor L, Creighton BC, Sterczala AJ, Szivak TK, Hooper DR, Maresh CM, Volek JS, Ellis LA, Kraemer WJ.
The Effects of Nitrate-Rich Supplementation on Neuromuscular Efficiency during Heavy Resistance Exercise.
J Am Coll Nutr. 2016;35(2):100-7. doi:
10.1080/07315724.2015.1081572. Epub 2016 Feb 17. PubMed PMID: 26885762.
https://www.ncbi.nlm.nih.gov/pubmed/26885762
1: Jajja A, Sutyarjoko A, Lara J, Rennie K, Brandt K, Qadir O, Siervo M.
Beetroot supplementation lowers daily systolic blood pressure in older, overweight
subjects.
Nutr Res. 2014 Oct;34(10):868-75. doi: 10.1016/j.nutres.2014.09.007.
Epub 2014 Sep 28. PubMed PMID: 25294299.
https://www.ncbi.nlm.nih.gov/pubmed/25294299
1: Hoon MW, Jones AM, Johnson NA, Blackwell JR, Broad EM, Lundy B, Rice AJ, BurkeLM.
The effect of variable doses of inorganic nitrate-rich beetroot juice on
simulated 2,000-m rowing performance in trained athletes. Int J Sports Physiol
Perform.
2014 Jul;9(4):615-20. doi: 10.1123/ijspp.2013-0207. Epub 2013 Sep 30.
PubMed PMID: 24085341.
https://www.ncbi.nlm.nih.gov/pubmed/24085341
Barley Extract
1: Yu YM, Chang WC, Chang CT, Hsieh CL, Tsai CE.
Effects of young barley leaf extract and antioxidative vitamins on LDL oxidation and free radical scavenging activities in type 2 diabetes.
Diabetes Metab. 2002 Apr;28(2):107-14. PubMed
PMID: 11976562.