What is Collagen?

Collagen is an important structural protein that allows for regeneration of our connective tissues, as well as elasticity, hydration and integration. Basically, it is what gives our body form and shape. What's interesting is that although collagen is so important to the health of our bodies, it is still a lesser-known supplement that has only recently been growing into more awareness of the true benefits.

What kind of protein is in this?

It is collagen protein made from pasture raised beef.
Ask a Question
Health Benefits
The Remarkable Benefits of Grass-fed Collagen Protein Powder
Everyday Stacks strives to help you feel amazingly youthful on the inside and out with our vital collagen protein and peptides in powder form. We want you to get the most bang for your buck – that's why we've added vitamin C to support collagen synthesis.
No fillers: just our paleo-friendly pure collagen blend.
Treat your body with clean collagen protein from Everyday Stacks. Everything from your hair and brain down to your toenails and tendons will thank you.
Odorless, tasteless and easy-to-mix Multi Collagen Protein can be added to a wide variety of healthy foods and beverages
Promote healthy skin, hair and nails†
Support healthy joints and bones†
Support a healthy gut†
WHY IS COLLAGEN IMPORTANT?
Just about every cell in your body requires collagen to function.
In fact, it's one of the most abundant proteins in the body – bones, nails, skin, organs, blood – it's everywhere!
Grass-fed collagen protein powder has you covered.
Like any protein, collagen contains amino acids. What makes collagen unique, however, is that it contains special amino acids to support proper cell function across muscles, bones, tendons, cartilage, blood, skin, and nearly everywhere else.
Think of collagen as the "glue" that holds your cells together. If you could identify one substance and call it youthfulness, collagen would be it.
No one wants to age, but it happens.
As we age, the body's ability to produce and hold onto collagen diminishes. That's why it's crucial to supplement collagen and help replenish your body's storage.
Mix one scoop with 8 oz's of liquid of your choosing.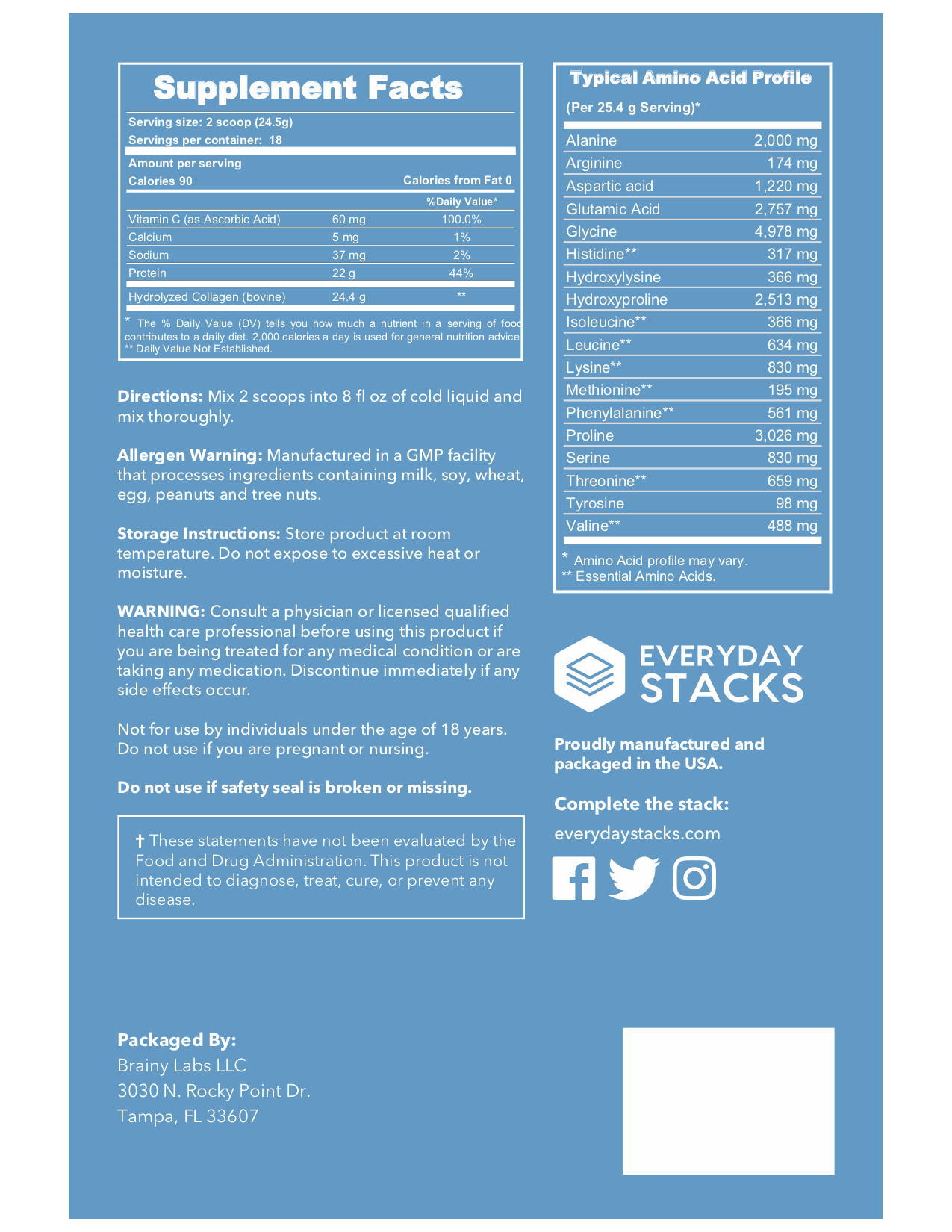 1. Effects of collagen-derived bioactive peptides and natural antioxidant compounds on proliferation and matrix protein synthesis by cultured normal human dermal fibroblasts.
Edgar S, Hopley B, Genovese L, Sibilla S, Laight D, Shute J.
Sci Rep. 2018 Jul 11;8(1):10474. doi: 10.1038/s41598-018-28492-w.
PMID: 29992983
2. Effectiveness of a Dietary Supplement Containing Hydrolyzed Collagen, Chondroitin Sulfate, and Glucosamine in Pain Reduction and Functional Capacity in Osteoarthritis Patients.
Puigdellivol J, Comellas Berenger C, Pérez Fernández MÁ, Cowalinsky Millán JM, Carreras Vidal C, Gil Gil I, Martínez Pagán J, Ruiz Nieto B, Jiménez Gómez F, Comas Figuerola FX, Aguilar Hernández ME.
J Diet Suppl. 2018 Apr 27:1-11. doi: 10.1080/19390211.2018.1461726. [Epub ahead of print]
PMID: 29701488
3. The effect of oral collagen peptide supplementation on skin moisture and the dermal collagen network: evidence from an ex vivo model and randomized, placebo-controlled clinical trials.
Asserin J, Lati E, Shioya T, Prawitt J.
J Cosmet Dermatol. 2015 Dec;14(4):291-301. doi: 10.1111/jocd.12174. Epub 2015 Sep 12.
PMID: 26362110
4. Collagen peptide supplementation in combination with resistance training improves body composition and increases muscle strength in elderly sarcopenic men: a randomised controlled trial.
Zdzieblik D, Oesser S, Baumstark MW, Gollhofer A, König D.
Br J Nutr. 2015 Oct 28;114(8):1237-45. doi: 10.1017/S0007114515002810. Epub 2015 Sep 10.
PMID: 26353786
5. Daily consumption of the collagen supplement Pure Gold Collagen® reduces visible signs of aging.
Borumand M, Sibilla S.
Clin Interv Aging. 2014 Oct 13;9:1747-58. doi: 10.2147/CIA.S65939. eCollection 2014.
PMID: 25342893
6. Supplementating with dietary astaxanthin combined with collagen hydrolysate improves facial elasticity and decreases matrix metalloproteinase-1 and -12 expression: a comparative study with placebo.
Yoon HS, Cho HH, Cho S, Lee SR, Shin MH, Chung JH.
J Med Food. 2014 Jul;17(7):810-6. doi: 10.1089/jmf.2013.3060. Epub 2014 Jun 23.
PMID: 24955642
7. Bovine collagen peptides compounds promote the proliferation and differentiation of MC3T3-E1 pre-osteoblasts.
Liu J, Zhang B, Song S, Ma M, Si S, Wang Y, Xu B, Feng K, Wu J, Guo Y.
PLoS One. 2014 Jun 13;9(6):e99920. doi: 10.1371/journal.pone.0099920. eCollection 2014.
PMID: 24926875
8. Oral intake of specific bioactive collagen peptides reduces skin wrinkles and increases dermal matrix synthesis.
Proksch E, Schunck M, Zague V, Segger D, Degwert J, Oesser S.
Skin Pharmacol Physiol. 2014;27(3):113-9. doi: 10.1159/000355523. Epub 2013 Dec 24.
PMID: 24401291
9. Effect of collagen hydrolysate in articular pain: a 6-month randomized, double-blind, placebo controlled study.
Bruyère O, Zegels B, Leonori L, Rabenda V, Janssen A, Bourges C, Reginster JY.
Complement Ther Med. 2012 Jun;20(3):124-30. doi: 10.1016/j.ctim.2011.12.007. Epub 2012 Jan 20.
PMID: 22500661
10. 24-Week study on the use of collagen hydrolysate as a dietary supplement in athletes with activity-related joint pain.
Clark KL, Sebastianelli W, Flechsenhar KR, Aukermann DF, Meza F, Millard RL, Deitch JR, Sherbondy PS, Albert A.
Curr Med Res Opin. 2008 May;24(5):1485-96. doi: 10.1185/030079908X291967 . Epub 2008 Apr 15.
PMID: 18416885
Text