QUESTIONS & ANSWERS
Have a Question?
Be the first to ask a question about this.
Ask a Question
Ask a Question
Health Benefits
Experience our Beef Bone Broth Powder
Everyday Stacks is on a mission to help people nourish their bodies with powerful yet gentle – and clean – ingredients. Our beef broth protein helps you take your internal and external health to the next level.
It's 2018: you deserve more from a protein powder these days.
Yes, it should support healthy muscles and keep you satisfied. But your protein powder should also go above and beyond to optimize your body.
That's where our beef bone broth powder fits into the picture with its wide-spread benefits:
Soothes digestive distress

†

Dairy-free protein

Fights inflammation

†

Reduces pain and stiffness in joints

†

Slows down the aging process

†

Fuels healthy muscle growth

†
What Makes Our Beef Bone Broth Protein Powder Different?
Our grass-fed beef bone broth powder contains 19 grams of muscle-building protein to give you exactly what you need after a great workout.
Of all the bone broth protein benefits, the fact that it's non-dairy ranks pretty high on the list.
Try looking for a protein powder that meets your nutritional needs, tastes good, and isn't made with whey or milk-based products. (Hint: you can't.)
But it doesn't end there: grass-fed bone broth protein powder houses a stunning low-fat, low-carb, high-protein nutrient profile with things you can't really find anywhere else like glucosamine, chondroitin, glycine, glutamine, proline, and even hyaluronic acid.
Not to mention, bone broth protein contains low carbohydrates so it's perfect for keto or other low-carb diets.
Win-win!
Perfect for All Lifestyles, Paleo and Keto Included
One ingredient: everything you need from a post-workout protein.
Our beef bone broth protein only comes from grass-fed cows and contains absolutely no fillers. (That's what smoothies are for.) The vanilla flavor is versatile enough to mix with a variety of foods including veggie dishes and sauces.
You can rest assured that this protein powder is gluten-free, soy-free, and paleo-friendly – what a mouthful!
Mix 1 scoop with 8 oz of liquid of choice. We recommened mixing with a blender or mini blender on low for 1-2 pulses.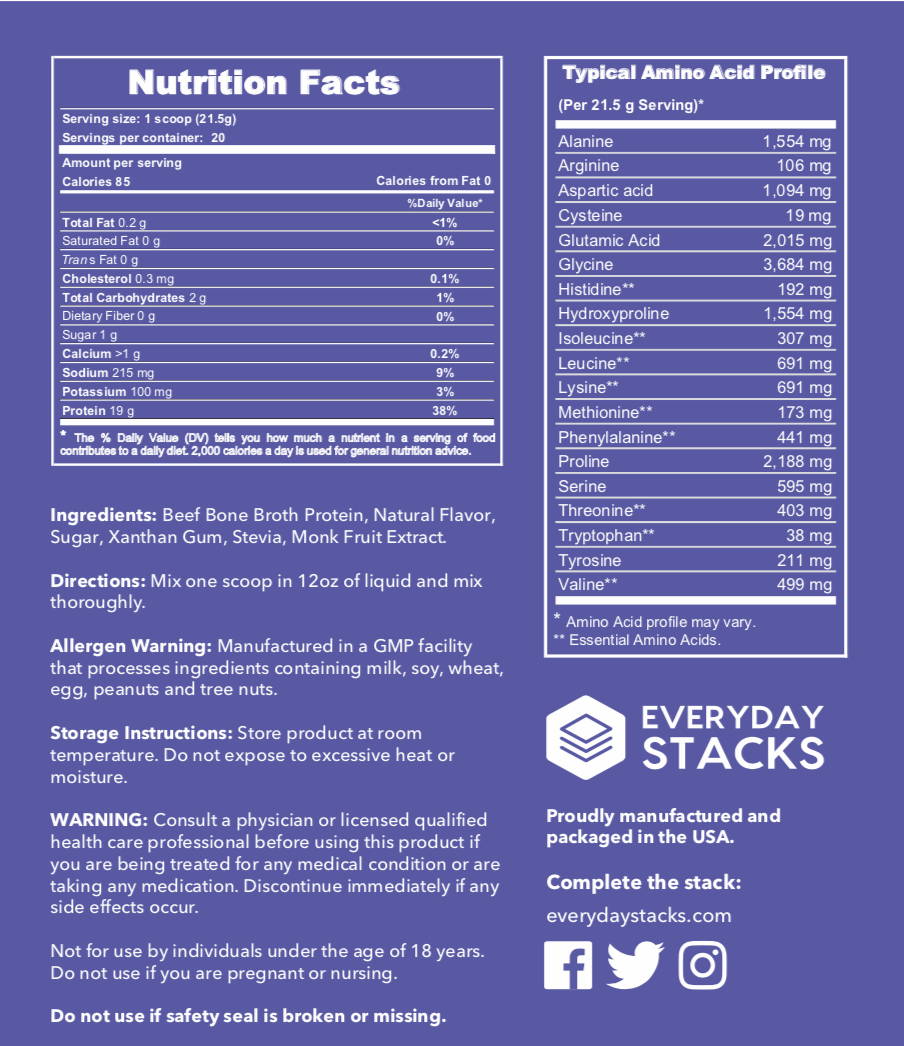 2. The Effects of Beef, Chicken, or Whey Protein After Workout on Body Composition and Muscle Performance.
Sharp MH, Lowery RP, Shields KA, Lane JR, Gray JL, Partl JM, Hayes DW, Wilson GJ, Hollmer CA, Minivich JR, Wilson JM.
J Strength Cond Res. 2018 Aug;32(8):2233-2242. doi: 10.1519/JSC.0000000000001936.
PMID: 28399016
https://www.ncbi.nlm.nih.gov/pubmed/28399016
1. Effects of Supplementation with Beef or Whey Protein Versus Carbohydrate in Master Triathletes.
Naclerio F, Seijo M, Larumbe-Zabala E, Ashrafi N, Christides T, Karsten B, Nielsen BV.
J Am Coll Nutr. 2017 Nov-Dec;36(8):593-601. doi: 10.1080/07315724.2017.1335248. Epub 2017 Sep 14.
PMID: 28910233